Changes
We started Old Wilmington Tea over ten years ago as a venture to help us through a transitional period. My wife had been recently diagnosed with chronic kidney disease, so we sold our brick-and-mortar children's store and went online with OWTC. It was a perfect fit for us and provided focus and meaning as well as flexibility.
As her kidney disease has progressed we've allowed the business to languish under benign neglect. We've kept things running, sometimes not as well as we'd like, but we've been unable to devote the time and energy to promotion and growth that the brand deserves.
Now we're on the cusp of a transplant. While this will ultimately improve our lives beyond measure, in the coming months we will have even less time and energy to devote to OWTC as we adapt to our "new normal" and learn to navigate life with a whole new set of rules. (The reality of dealing with immuno-suppressants is a bit daunting at first glance.)
So, after many months of debate, we've decided it's time to part ways with the business.
What does this mean? First, we're not shutting the doors. We're looking for someone who loves tea and would like to take the reins and reap the benefit of our efforts. We have packaging, collateral, documentation, knowledge, an e-commerce site, and a registerd trademark to offer. We could enlist a broker, value our customer base, project incomes, etc. and come up with a price, but we'd rather just sell the "stuff" (for example, it's easy to substantiate a price for custom printed tins when you can show what you paid for them) and come to a fair agreement for the trademark and call it a day.

To be blunt, we're ready to make a deal because things are about to become quite hectic.
If you're interested, drop me an email here and let's chat.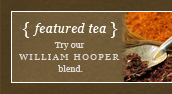 Tea is personal. Tea is tradition.
Tea is family.